It's fair to say that festival-goers are generally well-versed in the biographies, lyrics and anecdotes of their favourite artists. But what about their host region? We're convinced that Motocultor Festival-goers have to discover the town of Carhaix-Plouguer, the Poher region, and central Brittany in general!
With the sharp eye of talented photographer Faallaway, we invite you to discover several locations in Carhaix, but also close to the city. Our Festivacs campaign will guide our brilliant festival-goers on their way to discovering the area between two concerts !
THE VORGIUM ARCHAEOLOGICAL INTERPRETATION CENTRE
In the town centre : the Vorgium archaeological interpretation centre. 2000 years ago, the Romans chose a vast plateau in the heart of the Gallic territory of the Osismes to build a city, a showcase for their civilisation. For several centuries, Vorgium prospered and was adorned with prestigious monuments... the remains of which lie dormant beneath present-day Carhaix. Today, this prestigious past is revealed in a virtual interpretation centre, where archaeology meets new technologies.
Mission to Vorgium: the aqueduct treasure. In a dedicated 80 m² room, groups of 2 to 6 players equipped with virtual reality headsets can embody their avatars in a 30 minutes scenario tailor-made for Vorgium, inspired by Roman history and local archaeological discoveries.
 5 Rue du Dr Menguy, 29270 Carhaix-Plouguer 
02 98 17 53 07
https://www.vorgium.bzh
KARAEZ ADRENALINE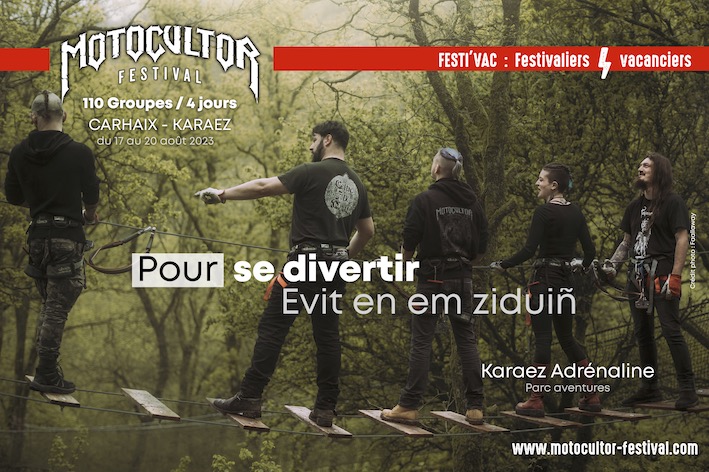 In a lovely setting in the heart of the Hyères Valley in Carhaix, the 11 journey of increasing difficulty will delight young and old alike. More than 160 different games will take you up to 15 m high. And if you feel like it, try out the biggest zip-line in Brittany. You can also test your fear of heights with the quickjump. And don't forget the labyrinth course for the little ones (no equipment required).
a 50% discount for every participant with a festival wristband between 17 and 27 August
 Vallée de l'Hyères, 29270 Carhaix-Plouguer 
06 50 19 15 98
https://karaezadrenaline.com
CAMPSITE OF HYERES VALLEY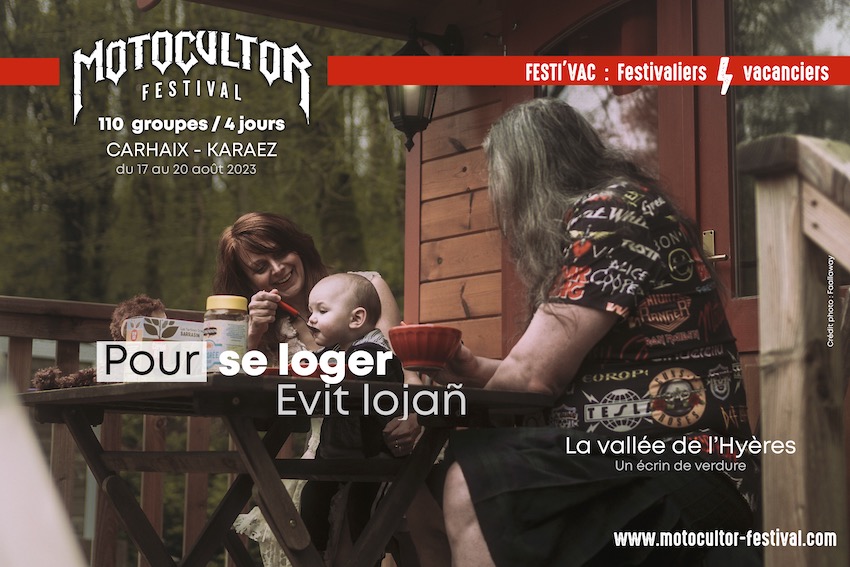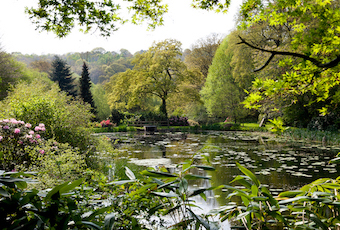 Nestling in the heart of Hyères Valley, the campsite offers a wide range of services. You can enjoy a walk, stop off at the campsite bar-restaurant and book accommodation to enjoy the area for longer!
 Rue de Kerniguez, 29270 Carhaix-Plouguer 
02 98 99 10 58
https://www.ville-carhaix.bzh/accueil_carhaix/decouvrir_carhaix/tourisme_de_loisirs_et_daffaires/camping_municipal_de_la_vallee_de_lhyeres
POHER AQUALUDIC AREA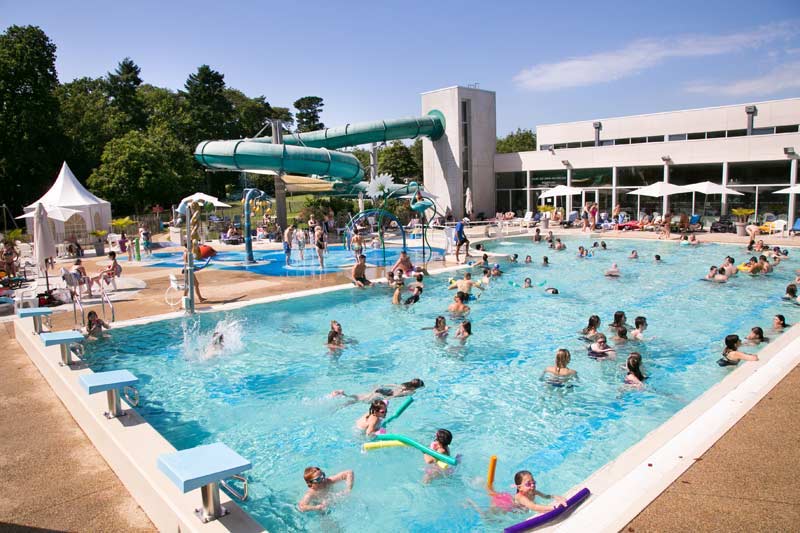 During the Motocultor Festival and only on festival days (excluding set-up and dismantling), festival-goers and volunteers benefit from a preferential rate for access to the swimming pool (on presentation of proof).
4.65€ for adult festival-goers

4.35€ for children

3.90€ for volunteers
It is proposed to apply this rate to festival-goers and volunteers during the 4 days of the event (from 17 to 20 August 2023)
Rue de la Piscine, 29270 Carhaix-Plouguer 
02 98 99 39 50
https://plijadour.poher.bzh/accueil_plijadour
THE MALLET LOCOMOTIVE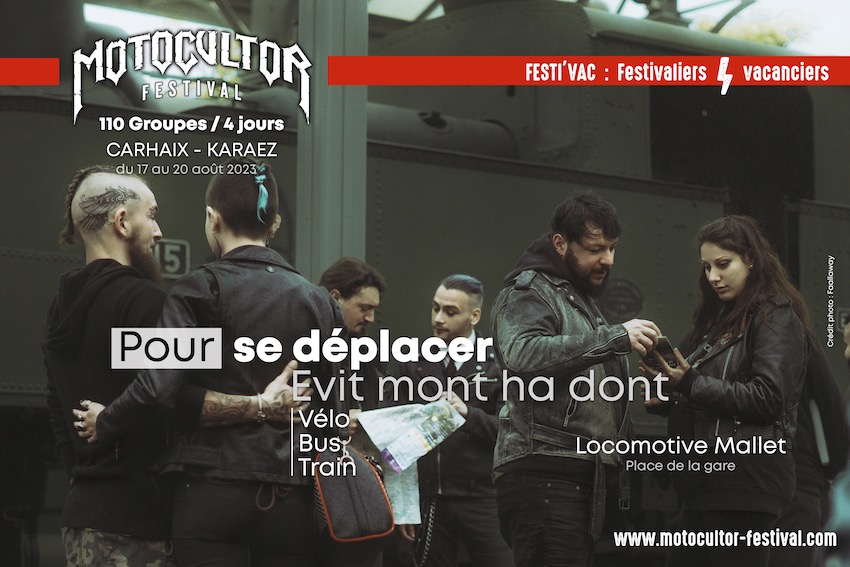 The Mallet locomotive is a symbol of the development of Kreiz Breizh and Carhaix, where the towns of Morlaix, Guingamp, Rosporden and Loudéac were linked by a hub-and-spoke network in the early 20th century. Installed in 2017 at Place Jean Rohou, it was built in 1913 in Lyon.
Just like this locomotive, if you want to get from place to place, don't hesitate to visit the Carhaix Poher Tourisme website for even more ideas for outings! The team on site will be delighted to help!
 8 Pl. d'Aiguillon, 29270 Carhaix-Plouguer 
02 98 93 04 42
https://www.carhaixpohertourisme.bzh/
ONLY 15 MIN FROM CARHAIX: THE VALLEY OF THE SAINTS, A FOOL'S GAMBLE FOR ETERNITY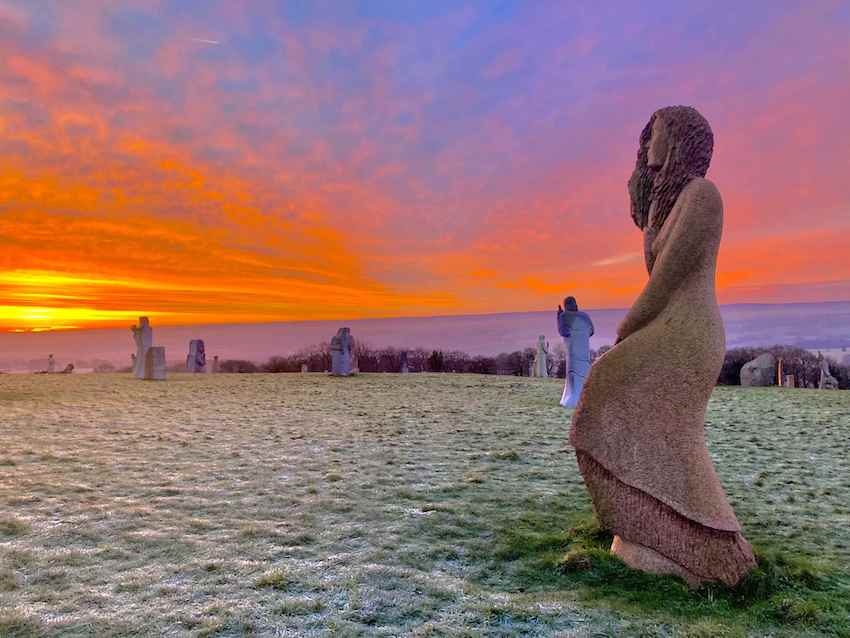 La Vallée des Saints, un pari fou pour l'éternité
There's magic in this extraordinary site. A bit like Easter Island... but in the Breton way! Located in the heart of Brittany, in Carnoët (22), the Valley of the Saints is an artistic and cultural site unique in the world, featuring more than 174 Breton granite giants in the likeness of the saints who have left their mark on Brittany.
Eventually, 1,000 stone saints will populate this sumptuous open-air gallery of monumental art, which has welcomed more than 2,750,000 visitors since its creation. The original, slightly mad idea has become reality, turning an exceptional site into one of Brittany's top attractions.
Facing the Montagnes Noires and Monts d'Arrée, visitors are invited to take a timeless, artistic journey to the heart of a site that will live forever.
Parking payant. Visite du site gratuite. Restauration sur place
 La Vallée des Saints, lieu-dit Quénéquillec 22160 CARNOËT 
02 96 91 62 26
https://www.lavalleedessaints.com
ONLY 20 MIN FROM CARHAIX: HUELGOAT FOREST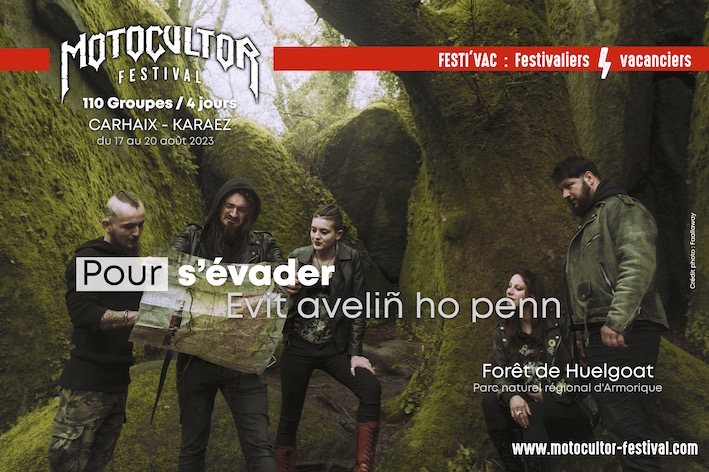 The cradle of many Celtic legends, the Huelgoat forest, or "Breton Fontainebleau", is best known for the curiosity and beauty of its rocks: a heap of rounded boulders in a chaotic layout which inspired numerous stories. It is also home to the River Argent, the domain of Huelgoat fairies. It was also the birthplace of the Osismes, a people mentioned in literary sources as far back as the 4th century BC. It was subsequently occupied during the Middle Ages, as evidenced by the presence of a castle mound.
Enough to delight lovers of history, legends and nature!